Latest Publications and Announcements
Click here for the latest publications and announcements from "Social communication."
Research summary
In entering the era of Big Data, we are able to accumulate Web information in the form of data that is significantly more diverse and on a larger scale than ever seen before, whether as text, audio, images, or video. However, conversely, today's world is faced with a variety of problems, including those related to protecting the global environment (reducing CO2 emissions), threats from viruses, medical treatment and health, realizing a social economy that can develop sustainably, food and energy, and building a "safe and stable" society. This project looks at the problems in these complex systems and aims to create the scientific research methods of a new discipline by integrating information-systems technology that utilizes data within the fields of human and social sciences.
This project, entitled "Social Communication (Communication Informatics)," considers a society that is integrating the actual physical-society (Real) and Web-information (Cyber) spaces that are increasing explosively through human and social data-measurement technologies. The technologies that will be researched and developed include not only information devices such as computers, but also every type of object in real society, which is projected into the Web space, and "Cyber-Real-Control technologies," which control real society from the Web space. In addition, not only is real society simulated in the Web space, but by maneuvering people and objects from the Web space and providing feedback to real society, we can realize a circulating-type foundation of human and societal knowledge that will create new, unprecedented, value. This project will be advanced through organic cooperation with the "Human and Social Data" database. (Project director: Noboru Sonehara (National Institute of Informatics))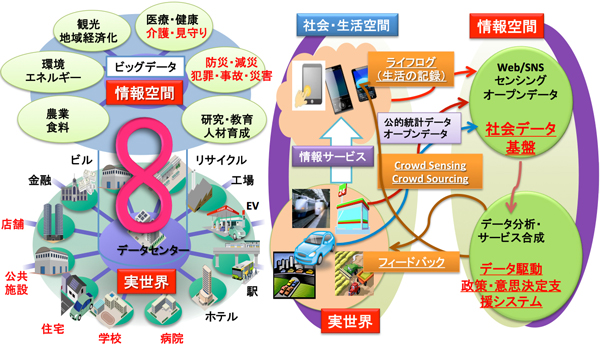 Project objective
Information on modern-day humans and society is projected into the Web space; modeling and simulation are carried out in the Web space; and feedback from the Web space is provided to people and things, with the goal of realizing a foundation of "circulating knowledge" that will create new value. Further, large-scale data on humans and society that is gathered from real society, and also knowledge on its modeling, will be socially implemented as a "human and social data joint-use and joint-research foundation." This will be the driving force behind human and social innovation that utilizes information-systems science. Through this, this project is taking on the challenge of creating "data-centric human and social sciences" as a new academic discipline.
System for promoting the project
This project has two main themes. First, in the "Web/SNS Lifelog-Driven Policy Decision Support System," the research will be conducted primarily by research representative Noboru Sonehara (National Institute of Informatics), including subthemes 1 and 2. Next, in "Decision-Making and Communication Processes that Contribute to Policy Science and Management Science," the research will be carried out primarily by research representative Hiroe Tsubaki (The Institute of Statistical Mathematics), including subthemes 3, 4, and 5.
Centered on the National Institute of Informatics and the Institute of Statistical Mathematics, 29 universities nationwide will collaborate (including the University of Tokyo, Osaka University, Doshisha University, Hiroshima University, Kochi University, Tokyo Gakugei University, Wakayama Medical University, Keio University, University of Electro-Communications, and Kyushu University). Moreover, in order to establish a method by which to analyze, collect, manage, and share the important data on humans and society in order to learn from disasters, cooperation has been strengthened with four universities (including Tohoku University and Ishinomaki Senshu University) and nine local public authorities in the Great East Japan Earthquake disaster area. Moreover, in the fields of tourism, disaster prevention and mitigation, and environmental policy science, the project is collaborating with local governments that are also local policy-makers (including Sendai City, Kyoto City, Hiroshima Prefecture, Hiroshima City, Yamanashi Prefecture, and Kochi Prefecture), as well as with industry, and is socially implementing a data-centric policy decision support service through industry-government-academia collaboration.
Introducing the subthemes
1. Research into Web/SNS Data-Driven Tourism/Disaster-Prevention Policy Science
In this subtheme, a system that supports rational tourism policies and stimulation of the tourist industry based on scientific data will be researched for local governments, which are the bodies that implement policy locally, and also practitioners, such as tourism associations and chambers of commerce and industry. As previous social-data investigative methods were unable to collect data on the use of lodging facilities on a daily basis, by collecting data horizontally from multiple websites and consolidating the biased data from each website a framework will be developed by which to ascertain the use conditions of lodging facilities in the real world. In addition, in order to address the problem of reliability and uncertainty related to Web-space data, a method by which to analyze and synthesize the collected data, and then compare it to statistical data on tourism, will be investigated; this method will make it possible to evaluate the reliability of Web reservation data.
Consequently, the project will provide a "Web data-driven system for supporting decisions on tourism policy" that can be applied to local governments nationwide, estimate the economic effects from opportunity loss and from holding events in tourism-related industries, and establish a method of controlling demand through pricing.
Moreover, from the experience of the Great East Japan Earthquake, it was found that, in many cases, systems that operate only in times of emergency are not that useful when an emergency actually occurs. Therefore, research will be carried out in the field of service science to secure a "non-emergency information system" that can be used during times of non-emergency, as well as a disaster-response system for use during emergencies.
<A specific example of results>
By horizontally collecting, accumulating, and analyzing the extensive and diverse data related to lodging facilities available on various websites, a "Web data-driven tourism forecasting system" was developed that can predict the availability and cost of accommodations, as well as support rational decision-making on tourism policy based on big data. Moreover, the system is also intended for use when disasters occur, for instance to implement measures to return evacuees to their homes, using the same method as that used to forecast tourism during times of non-emergency.
The reliability of data from the tourism forecast system was verified through a cooperative research study with Kyoto City Tourism MICE Promotion Office (tourism policy director, Keiko Murakami, etc.) By applying its findings to local governments throughout the country, the project will realize a system that supports both tourism policy, and disaster-prevention and mitigation policy.
2. Data driven-type learning support: research into a learning support cyber study space optimized for individuals
Alongside the development of the net society, the use of ICT is progressing in the educational field, and there are many attempts to utilize it in areas such as e-learning, electronic textbooks, LMS (Learning Management System), CMS (Course Management System), and online education. Although it is possible to accumulate this range of education-related data, which includes valuable information, in large quantities in information spaces, its types and methods of use have still not been researched systematically.
However, conversely, education to date has basically targeted groups, and has also been carried out based on assumptions related to "standard" learners. Of course, individual learners each have different learning characteristics and abilities, but it has been difficult to provide learning support that is tailored to the individual. In recent years, in conjunction with the increase in learning opportunities outside of the school, it has become increasingly difficult for teachers to ascertain students' learning situations.
Therefore, for the research under this subtheme, learning and evaluation (test) data obtained from a Web test will be analyzed based on a cognition diagnostic model, and the individual's learning processes and outcomes will be estimated. At the same time, it will utilize techniques such as data mining and visualization methods; using data related to learning activities (learning lifelogs), which accumulates in large quantities in information spaces, it will focus on a method of extracting information in order to contribute to improved learning, for example based on the learners' characteristics and learning styles, their progress, and communication between them. By integrating the results obtained from both the cognitive diagnostic test and the learning lifelogs, an optimized learning support method that is tailored to the needs of each individual learner, their learning characteristics, and learning conditions, will be researched and established. (1 and 2, research representative: Noboru Sonehara (National Institute of Informatics))
<A specific example of results>
Based on the data obtained through collaboration with the elementary school attached to Tokyo Gakugei University, students' self-adjusted learning was promoted. At the same time, a method for providing feedback on learning and evaluation that will be useful for teachers when guiding the students' learning was investigated.
A dispersed-layer DINA model to ascertain the layered structure of the cognition elements based on the collected data was proposed.
In the domain of Japanese vocabulary, a verification experiment was conducted with cooperation from educational sites—namely, the International Student Exchange Center of Tokyo Gakugei University, and the Japanese major courses at overseas universities—and, after verifying the suitability of the attribute settings, the test items were prepared.
The fraction test was mounted on Moodle, and research into the learning lifelogs began.
3. Upgrade and standardization of the information cycle related to decision-making and communication processes
Considering the uncertainty of events and of human behavior, this project will advance mathematical basic research and applied research into efficient and robust scenario-decision processes, such as for policy, investment, and sports business and games, and also into decision theory relating to communication between groups. Furthermore, in addition to the field of statistical mathematics, it will pursue joint research with academics in a diverse range of fields, including fuzzy theory and financial engineering. Moreover, it will accumulate findings on statistical methods that will accelerate the development of services, including policy, and on methodologies that can be used within the framework of related managerial techniques.
Japan will serve as the chair country; in cooperation with researchers from the United States and Germany, and also practitioners from statistical bureaus in the United Kingdom and South Africa, it will draft a proposal for standardization of the decision support process in ISO TC69 SC8, in which the representative will serve as chairperson (sections 1 to 8 of the ISO 16355 standard for "Statistical Methods and Related Techniques for Accelerating Product and Service Development"), and will work toward achieving international standardization.
4. Preparing original statistics on suicide-prevention measures and supporting prevention measures
Together with the National Center for Neurology and Psychiatry, this project is cooperating with the Cabinet Office to prepare suicide statistics, and is pursuing joint research with Keio University, Wakayama Medical University, and other organizations on modeling the relevant statistical suicide data. To this end, it will continuously hold domestic and international horizontal joint-research meetings of suicide researchers from a variety of fields. In addition, it will undertake research to make visible the factors behind suicide in Japan so that it may contribute to the policies proposed by the Cabinet Office Suicide Prevention Center, as well as evaluation of these policies.
5. Establishing a mathematical method for decisions on safety standards and related areas, and implementing this method into food safety and other fields
In this project, research will be carried out to establish mathematical risk-management technologies that will become the basis for decisions on food-safety standards and environmental standards. In addition, it will advance research on a comprehensive risk-management policy-decision style that takes into consideration uncertainty in the measurement of characteristic values and the "dose-response relationship" toward the ultimate endpoints of characteristic values. Activities will be carried out in the fields of food and the environment with the aim of implementing the technologies in society. (3, 4, and 5, research representative: Hiroe Tsubaki (The Institute of Statistical Mathematics))
<A specific example of results>
As a framework for the international standard of an information cycle to attain VOS (Voice of Society) and VOC (Voice of Customer), the design specification across eight sections of the ISO 16355 series was approved with ISO/TC 69 (application of a statistical method) and has been coordinated with ISO/TC176 (quality management) and TC69/SC7 (Six Sigma: China). An international standard original proposal related to robust parameter design was prepared with the cooperation of organizations such as the Robust Quality Engineering Society, and has reached DIS voting.
Following a request by the National Center of Neurology and Psychiatry, a tool to make information on suicides in Japan visible was prepared and released onto the Internet. In addition, the task of integrating this tool with an original database of geographical features was carried out, and the factors that affect the clustering of suicides spatially and temporally, as well as suicide hotspots, were analyzed.
An investigation has been completed to verify the quality of statistics and data from the joint research conducted with various government ministries' statistics divisions and bureaus, as well as the Bank of Japan, the Japan Pharmaceutical Manufacturers Association, and Japan Marketing Research Association. This included investigating guidelines for the possible use of this data in public statistics in ISO 20252, which is the standard for quality management of research services, and the various factors affecting the quality of statistical processing.


Research View 013
[Social Communication] Hiroshi Tsuda (Professor, Doshisha University)
On Wall Street, which is one of several places on the leading edge of financial engineering, it is said that robots (programs) are already playing a significant role in trading.

Research View 005
[Social Communication] Noboru Sonehara (Professor, National Institute of Informatics)
In the data-centric science research commons, Professor Noboru Sonehara is the leader of two projects-"Human and Social Data" and "Social Communication (Communication Informatics)"-and is advancing integrated research.